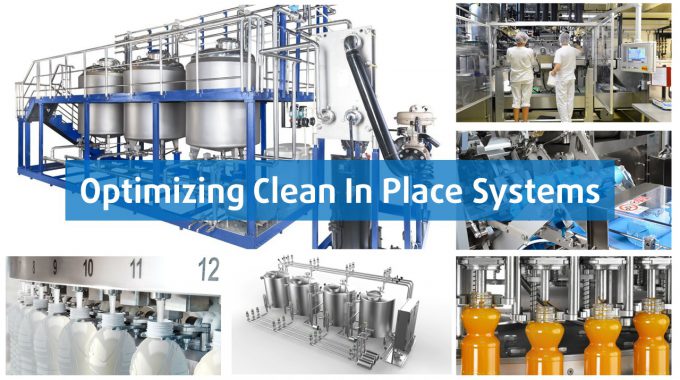 What is CIP? Optimizing CIP (Clean In Place) Systems with inline viscosity & density measurements
What is CIP?
In CIP systems, cleaning takes place without dismantling the system. CIP refers to all those mechanical and chemical systems that are necessary to prepare equipment for food processing, either after a processing run that has produced normal fouling or when switching a processing line from one recipe to another.
"The cleaning of complete items of plant or pipeline circuits without dismantling or opening of the equipment, and with little or no manual involvement on the part of the operator. The process involves the jetting or spraying of surfaces or circulation of cleaning solutions through the plant under conditions of increased turbulence and flow velocity."

CIP for pharmaceutical plants (Source – GEA)
A CIP system typically consists of vessels for preparation and storage of cleaning chemicals, pumps and valves for circulation of the CIP chemicals throughout the plant, instrumentation to monitor the cleaning process, and vessels to recover the chemicals.
Why is CIP important?
CIP is an important component in guaranteeing food safety in food processing plants. Successful cleaning between production runs avoids potential contamination and products that don't meet quality standards. Carrying out CIP correctly – from design to validation – ensures secure barriers between food flows and cleaning chemical flows. From the point of view of food processing, any cleaning time is downtime – the equipment is not productive. Cleaning must also be carried out safely, because very strong chemicals are involved that can be harmful to people and to equipment. Finally, it should be carried out with the least impact on the environment by using minimal amounts of water and detergents and by maximizing the re-use of resources.
The food processing industry – whether involving milk, cheese, yoghurt drinks or Béarnaise sauce – benefits immensely from advanced technology that can control processing and protect food quality, from raw materials coming in to packages going out.
Among the most important of these is the need to clean and sanitize your plant and equipment sufficient to produce food free of physical, allergenic, chemical and microbiological hazards. In addition, it is important to understand the reasons why a food plant must be cleaned. The reasons include:
To reduce the risks from food hazards – food poisoning and foreign body contamination
To comply with local and international legislation
To meet specific customer requirements, e.g. Tesco
To meet the requirements of global food safety standards (GFSI)
To maintain positive audit and inspection outcomes
To allow maximum plant productivity
To present a hygienic visual image
To promote safe working conditions for staff, contractors and visitors
To maintain product shelf-life
To avoid pest infestation
Cleaning is a necessity in all food production. A good CIP system helps cut costs and reduce the amount of downtime needed for cleaning.
Butter production line (Source – GEA)
Cleaning as a part of production
Manufacturers want to ensure food safety at all times, while keeping downtime for CIP to a minimum. This has led to a structured approach to cleaning as part of production, rather than an interruption and as separate from production. Cleaning principles depend on the type of food product being produced and its characteristics. For example, cleaning methods suitable for dairy products may not be suitable for fruit juice products. One way to improve cleaning efficiency is to implement structured guidelines and procedures that increase a producer's control over cleaning parameters. Cleaning according to schedules and defined guidelines secures food safety and product quality.
Risks of inefficient and ineffective CIP systems
Food safety and litigation
Frequent incidences of food safety disasters around the globe are often caused by simple mistakes or faulty processes in a food or beverage factory which lead to sickness, injury, and even death for those who consume contaminated products. In addition to the human tragedy, these contamination incidents lead to the expense of product recalls, loss of confidence in a company's brand, and ultimately loss of revenue. The result of improper cleaning is costly to a plant in violation of food and beverage industry safety regulations.
Production downtime
Food and beverage companies constantly aim to lower operational expenditure and reducing waste to lower the cost of production without impacting product quality. However, when a CIP process is in operation, production uptime is stopped. This impacts profitability. As a result, two tendencies manifest themselves which are both negative to the business:
When a problem occurs, there is a natural reaction to avoid seeking the root cause of the problem. Such an intervention could involve even more time-consuming maintenance work.
With the risk of contamination at the forefront of most operators' minds, the tendency of the CIP operator is to overcompensate with increased cleaning time.
Fortunately, new CIP technologies alleviate the above problems because of significant improvements in efficiency:
More advanced CIP automation enables dramatic reductions in trouble-shooting time in the event of a problem, cutting what once took hours to perform into minutes of diagnostics.
An optimized CIP process can reduce cleaning times significantly.
High consumption of energy and water
Efficiency improvement does not only focus on reducing cycle time, and energy, water, and chemical consumption. Existing clean-in-place (CIP) processes are time intensive and waste large amounts of energy, water, and chemicals. New innovations in CIP technology allow plant operators to cut costs in an environment friendly manner while still conforming to regulatory safety standards.
Dairy products filling line (Source – GEA)
Optimization strategy
While every food and beverage processing plant's requirements are different and details will vary, experience has shown the most successful approach for CIP is based on these pillars:
Effective & efficient design
Energy efficiency
Automation optimization
Effective & efficient design
Efficiencies can be gained by introducing smaller, decentralized CIP systems to the plant. This approach reduces the amount of energy required to transport heated chemicals through long pipes to far corners of the production installation. The shorter distances for delivery of detergents, saves water, energy, and time.
Energy efficiency
Up to 30% in energy savings can be gained by making improvements to inefficient, outdated equipment components that waste electricity and by modifying wasteful business processes. Examples include introducing variable speed drives rather than fixed speed drives so that operators can specify the flow rate within the recipe parameters. On the process side, adjustments can be made by better balancing rinsing time to rinsing volume.
Automation Optimization
The implementation of production adapted cleaning, through advanced automation systems that automatically adapt cleaning processes depending on the information returned via sensors and monitors, will improve cleaning results, reduce downtime, and secure food safety. The most advanced cleaning systems continuously monitors production parameters and indicates the CIP needs.
Controls, sensors and alarms are all elements of automation that enable dashboards to be implemented and key performance indicators (KPIs) to be set. Automation improves the quality of information available and allows tighter control of the various parts of the cleaning process (such as creating parameters around the opening and closing of valves and pump operation). It is important that the automation architecture is open; this enables the CIP processing equipment to communicate with other process equipment such as tanks or pasteurizers. Integrated "status check" ability streamlines the efficiency of the operation.
Optimizing CIP systems with Rheonics solutions
Rheonics viscosity and density sensors are CIP compatible and adds advanced 'intelligence' to CIP systems
Viscosity is a property that is affected at the molecular level and has tremendous amount of information about the process fluid but has been hard to quantify reliably with existing instruments.
Primary benefits with Rheonics Viscosity and Density Sensors with respect to the Clean In Place System requirements:
Rheonics sensors are CIP ready and comply with hygienic design requirements of processing equipment. Rheonics SRV and SRD are available in tri-clamp and DIN 11851 connections besides custom process connections. Both SRV & SRD conform to Food Contact Compliance requirements according to US FDA and EU regulations.
Monitor, optimize the CIP process and detect cleaning end points. SRV (and SRD) monitors the cleanup of the fluid lines by monitoring the viscosity (and density) of the cleaner/solvent during the cleaning phase. Any small residue or contaminations is detected by the sensor, enabling the operator to decide when the line is clean/fit for purpose. Alternatively, SRV (and SRD) provides information to the automated cleaning system to ensure full and repeatable cleaning between runs, thus ensuring full compliance to sanitary standards of food manufacturing facilities.
Easy installation and no reconfigurations/recalibrations needed – zero maintenance/down-times. In the unlikely event of a damaged sensor, replace sensors without replacing or re-programming electronics. Drop-in replacements for both sensor and electronics without any firmware updates or calibration changes. Easy mounting. Available with standard and custom process connections like NPT, Tri-Clamp, DIN 11851, Flange, Varinline and other sanitary and hygienic connections. No special chambers. Easily removed for cleaning or inspection. SRV is also available with DIN11851 and tri-clamp connection for easy mounting and dis-mounting. SRV probes are hermetically sealed for Clean-in-place (CIP) and supports high pressure wash with IP69K M12 connectors.
SRV – inline viscometer (DIN 11851 & Tri-clamp connections for food and pharmaceutical industry)
SRD – inline density and viscosity meter (DIN 11851 & Tri-clamp connections for food and pharmaceutical industry)
Why is it important to optimize the CIP Processes in Food and Beverage Operations and detect the cleaning end point?
To reduce cleaning time
To reduce job changeover time
To better manage materials and chemicals that must be then recycled/disposed/recovered with reduced wastage
To reduce energy and water usage
Modern CIP systems, equipped with Rheonics sensors and automation software enable a simple drill down into all aspect of the process. This traceability of the system offers a number of benefits:
Operators can check each CIP operation to verify whether it has worked correctly – real-time monitoring of the initial, intermediate and final state of the line
Diagnostics are simple to perform and deliver detailed information on each element of the cleaning cycle
Faults and issues can quickly be highlighted and rectified
Plant managers can generate detailed operational reports
Food security reporting to regulators is easy to assemble and more comprehensive
Continuous research and close cooperation with customers give us both deeper and broader knowledge about food safety issues, ranging all the way from food processing, through filling and packaging. We enable our customers to benefit from this knowledge and experience through validated production solutions.
References:
HANDBOOK – Cleaning in place – A guide to cleaning technology in the food processing industry, By Tetra Pak.
WHITEPAPER – How to Optimize Clean-in-Place (CIP) Processes in Food and Beverage Operations, by Benjamin Jude and Eric Lemaire (Schneider Electric)
GEA CIP/SIP Solutions – https://www.gea.com/en/products/cleaners-sterilizers/cip-sip/index.jsp 
Rheonics products portfolio for food and pharma manufacturers, system integrators and machine builders
Rheonics density meters and viscosity meters are available as probes and flow-through systems for installation in tanks, process lines and reactors. All Rheonics products are designed to withstand harshest process environments, high temperature, high level of shock, vibrations, abrasives & chemicals.