Semiconductor CMP (chemical mechanical polishing) slurry quality control through density and viscosity monitoring
Optimum process performance can be ensured by monitoring slurry health continuously. It helps to accommodate tighter purity and blend accuracy requirements of next generation slurries.

Newer slurries not well defined and require fine-tuning for specific processes, which is made possible with advanced sensors data. Wafer process consistency is significantly improved with real-time insights and automation.

Continuous viscosity/density optimization contributes to reducing cost of ownership of CMP process and consumables

Prevent issues with alarm capabilities
Application Introduction
The chemical-mechanical polishing (CMP) of surfaces is often associated with chemical-mechanical planarization, which is a process of removing surface materials by chemical reaction. CMP is a standard manufacturing process in the semiconductor industry for fabricating integrated circuits and memory disks.
A slurry containing primarily pure water, a chemical reagent, and different polishing particles is used between the polishing pad and the wafer.
Why is slurry process control needed in CMP?
The semiconductor industry is all about scale and maintaining strict quality control throughout the entire process. In multi-mask processes, CMP slurries define the surface texture on which subsequent layers are deposited. Electronic components with smaller dimensions require more sophisticated CMP processes. The customer goal is to have flat, smooth, polished wafers.
With minimum feature sizes dropping below 10 nm, wafer-level defect specifications have become more stringent. As a result, CMP processes have become more complex and slurry quality standards have become more stringent. While the slurry may be tightly controlled at the point of manufacture (POM), subsequent operations such as transport, handling, blending, filtration, and dispensing on the pad can alter its chemical properties (e.g., affecting oxidizers or additives). Changing such parameters may affect process performance and contribute to wafer-level defects, thereby affecting module productivity. In order to prevent such undesirable effects, chemical properties of slurry must be continuously monitored at the point of use.
Importance of CMP slurry viscosity and density in polishing operations
Slurry viscosity and density information provides key insights to assess the dispersion of the particles in CMP slurries because of the relationship that exists between viscosity and particle size. It provides crucial information to help formulators tailor to their individual requirements.
Slurry consistency depends on both chemical and mechanical components. This slurry should have narrow, uniform particle size distributions and solids of uniform density. Changing density indicates a non-uniform slurry, which alters polishing removal. Agglomerations and large particles can be removed by filters in the blender, but density fluctuations are more insidious. It is possible that the slurry particles meet the specifications and pass through the filters. The slurry is typically shipped concentrated, then diluted with water or hydrogen peroxide at the fab. A slurry tote or drum may have higher density at the bottom due to inadequate mixing. Initially, the incoming material quality at the CMP tool depends on the fab practices combined with onsite mixing and storage. Monitoring slurry density ensures the right blend is delivered to the process tools.
For monitoring incoming slurry, densitometry has become the common method. Variations in density indicate a non-uniform slurry (i.e., a higher concentration of large particles is possible at any given time), which can affect the removal rate and lead to defects.
Density – Indicator of slurry components and blend properties and an effective indicator for blend monitoring and control
Viscosity – Indicator of blend consistency
Limitations of other parameters:
pH – slurries are chemically buffered, insignificant variation with changes in blend ratio
ORP (Oxidation-reduction potential) – does not change with mix ratio in most CMP slurry blends
Conductivity or TDS – usually has good sensitivity to blend ratio, often cannot be used as an independent control parameter, conductivity values vary in different lots of the same slurry, may also vary with aging of the same slurry lot during recommended storage life
Rheonics' solutions for quality control and assurance of semiconductor CMP slurry
Automated in-line viscosity measurement and control is crucial to control the viscosity during manufacturing process and ensure critical characteristics are in full compliance with requirements across multiple batches, without having to rely on offline measurement methods and sample taking techniques. Rheonics offers the following solutions for process control and optimisation,
Viscosity & Density Meters
In-line Viscosity measurements: Rheonics' SRV is a is a wide range, in-line viscosity measurement device capable of detecting viscosity changes within any process stream in real time.
In-line Viscosity and Density measurements: Rheonics' SRD is an in-line simultaneous density and viscosity measurement instrument. If density measurement is important for your operations, SRD is the best sensor to cater to your needs, with operational capabilities similar to the SRV along with accurate density measurements.
Integrated, turnkey quality management
Rheonics offers an integrated turn-key solution for quality management made of:
In-line Viscosity measurements: Rheonics' SRV – a wide range, in-line viscosity measurement device with in-built fluid temperature measurement
Rheonics Process Monitor: an advanced predictive tracking controller to monitor and control in real-time variations of process conditions
Rheonics RheoPulse with automatic dosing: A Level 4 autonomous system that ensures no compromise with set limits of viscosity and automatically activates by-pass valves or pumps to adaptively dose mixture components
The SRV sensor is located in-line so it continuously measures the viscosity (and density in case of SRD). Alerts can be configured to notify operator of necessary action or the entire management process can be fully automated with RPTC (Rheonics Predictive Tracking Controller). Using an SRV in an manufacturing process line, results in improved productivity, profit margins and achieves regulatory conformance. Rheonics sensors have a compact form factor for simple OEM and retrofit installation. They require zero maintenance or re-configurations. The sensors offer accurate, repeatable results no matter how or where they are mounted, without any need for special chambers, rubber seals or mechanical protection. Using no consumables and not requiring re-calibration, SRV and SRD are extremely easy to operate resulting in extremely low lifetime running costs.
Once the process environment is established, there is usually little effort required to maintain the integrity consistency of the systems – operators can rely on the tight control with Rheonics production quality management solution.
Superior sensor design and technology
Sophisticated, patented electronics is the brain of these sensors. SRV and SRD are available with industry standard process connections like ¾" NPT, DIN 11851, Flange and Tri-clamp allowing operators to replace an existing temperature sensor in their process line with SRV/SRD giving highly valuable and actionable process fluid information like viscosity besides an accurate measurement of temperature using an in-build Pt1000 (DIN EN 60751 Class AA, A, B available).
Electronics built to fit your needs
Available in both a transmitter housing and a small-form factor DIN rail mount, the sensor electronics enables easy integration into process lines and inside equipment cabinets of machines.
Easy to integrate
Multiple Analog and digital communication methods implemented in the sensor electronics makes connecting to industrial PLC and control systems straightforward and simple.
Analog and Digital Communication Options
Optional Digital Communication Options
ATEX & IECEx Compliance
Rheonics offers intrinsically safe sensors certified by ATEX and IECEx for use in hazardous environments. These sensors comply with the essential health and safety requirements relating to the design and construction of equipment and protective systems intended for use in potentially explosive atmospheres.
The intrinsically safe and explosion proof certifications held by Rheonics also allows for customization of an existing sensor, allowing our customers to avoid the time and costs associated with identifying and testing an alternative. Custom sensors can be provided for applications that require one unit up to thousands of units; with lead-times of weeks versus months.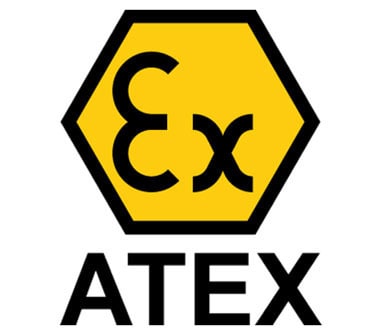 Implementation
Directly install the sensor in your process stream to do real-time viscosity and density measurements. No bypass line is required: the sensor can be immersed in-line; flow rate and vibrations do not affect the measurement stability and accuracy. Optimize mixing performance by providing repeated, consecutive, and consistent tests on the fluid.
In-line Quality control locations
In tanks
In the connecting pipes between various processing containers
Instruments/Sensors
SRV Viscometer OR an SRD for additional density
Rheonics Instrument Selection
Rheonics designs, manufactures and markets innovative fluid sensing and monitoring systems. Precision built in Switzerland, Rheonics' in-line viscometers and density meters have the sensitivity demanded by the application and the reliability needed to survive in a harsh operating environment. Stable results – even under adverse flow conditions. No effect of pressure drop or flow rate. It is equally well suited to quality control measurements in the laboratory. No need to change any component or parameter to measure across full range.
Suggested product(s) for the Application
Wide viscosity range – monitor the complete process
Repeatable measurements in both Newtonian and non-Newtonian fluids, single phase and multi-phase fluids
Hermetically sealed, all stainless steel 316L wetted parts
Built in fluid temperature measurement
Compact form-factor for simple installation in existing process lines
Easy to clean, no maintenance or re-configurations needed
Single instrument for process density, viscosity and  temperature measurement
Repeatable measurements in both newtonian and non-newtonian fluids, single phase and multi-phase fluids
All metal (316L Stainless Steel) construction
Built in fluid temperature measurement
Compact form-factor for simple installation in existing pipes
Easy to clean, no maintenance or re-configurations needed