Monitoring and controlling viscosity in formulation, testing and application of adhesives and sealants
Introduction
Adhesives and sealants are used widely for joining , protecting and sealing systems in construction, manufacturing and maintenance.
This industry is facing challenges due to the limited raw materials (reserve of oil) and the negative impact of synthetic compounds on human health and environment. Key raw materials used for manufacturing adhesives are sourced from crude oil and petrochemicals. Volatile prices of these products have affected the profitability of participants in the recent past. Industry leaders are moving towards adoption of more advanced technologies such as automation, industrial internet of things (IIoT) and simulation techniques and are undertaking various strategic initiatives, such as extensive R & D activities for the sustainable production and cost-effective operations.
Industrial Applications & Market Insights of Adhesives and Sealants
Diverse sectors and industries use adhesives as part of its processes.
adhesives as a closure system in the packaging industry,
adhesives as a system for construction of complex structures such as skyscrapers, airplanes, trains or buses.
Automotive assembly (gluing carpets, dashboards, seats, etc),
general manufacturing like gluiding the screens of iPhones,
electronics manufacturing, solar cell manufacturing,
window and door manufacturing.
The adhesives & sealants market size is estimated to be USD 58.9 billion in 2019 and projected to reach USD 73.8 billion by 2024, at a CAGR of 4.6%, from 2019 to 2024 (projects by Markets and Markets). The increasing use of adhesives & sealants in various applications, such as paper & packaging, building & construction, woodworking, consumer/DIY, automotive & transportation, leather & footwear, assembly, and others is driving the growth of the adhesives & sealants market.
The automotive & transportation segment is expected to grow at the highest CAGR, in terms of value, during 2019-24, owing to an increase in the demand for lightweight, efficient, and eco-friendly cars. The rising demand for adhesives & sealants in fast-growing India, China, South Korea, Malaysia, Vietnam, Taiwan, Indonesia, among other countries in the region, is accelerating the growth of the adhesives & sealants market worldwide.
Application
A new range of high-strength industrial adhesives is now being used in the automotive field, and in other manufacturing operations, as a replacement for spot welding, mechanical fasteners, and other traditional joining methods. Adhesives offer several major advantages compared to conventional fastening techniques, including more uniform bond strength over a larger surface area, versus the localized strength points typically achieved with mechanical fastening. Adhesives are used to join surfaces, typically by changing their phase from liquid to solid. Sometimes this is triggered by a temperature change (hotmelt adhesives), in other cases the glue hardens at ambient conditions (contact adhesives) e.g. due to solvent evaporation or due to the humidity of the surrounding air.
Composition
Adhesives and sealants are complex formulations used to bind substrates or seal joints or gaps. They come in different forms but are commonly dispersions containing polymeric materials or curing agents, surfactants and solvents. Adhesives can be reactive or non-reactive. For reactive adhesives, adhesion can be induced by mixing two or more reactive components together, such as an epoxy resin and hardener, or can be induced by external stimuli such as UV radiation, heat or moisture. For non-reactive adhesives, adhesion is induced by physical stimuli such as pressure or solvent evaporation, for example. In the case of a sealant, the primary function is to seal joints or gaps and prevent moisture, solvents or gases from entering or escaping from a system or component, although many sealants can have multiple functions.
Most adhesives and sealants are composed of polymeric materials, or contain monomers or oligomers that form a cross-linked polymeric network following reaction. Consequently the molecular weight and molecular structure of these components are critical to material properties both before and after adhesion. Many adhesive and sealant formulations are two phase systems, which include emulsions containing dispersed polymer, or dispersed solids in the case of caulk. In both cases particle size and droplet size can be critical to product performance.
Anyone intending to use adhesives and sealants faces the formidable challenge of correct material selection as well as determining proper processes. The adhesive or sealant must flow onto the substrate surface and then change from a flowable liquid to a structural solid without creating harmful internal stresses in the joint. Many of the adhesive or sealant problems that evolve are not due to a poor choice of material or joint design but are directly related to faulty production techniques mostly lacking suitable process control.
Why viscosity measurement is important in preparing the formulations?
There are many types of adhesive and sealants to consider when setting up a manufacturing process. Careful consideration of viscosity helps choose the right material for both the design of product as well as the manufacturing process required to build it.
Modern adhesives are often a complex formulation of components that perform specialty functions. The formulation of raw materials into serviceable adhesive bonding and sealing systems is itself a broad field of technology. Adhesives and sealants can be produced in various forms: one- and two-part liquids, solvent based solutions, water-based emulsion, supported or unsupported film, preformed pellets or shaped extrusions, and numerous other forms. This variety of formulation possibilities and end-use forms are indicative of the advanced state of development of adhesives and sealants.
Viscosity (and Rheology) is one of the most important parameters in production and processing of adhesives. Further incoming material must be viscosity tested before use (e.g. in a dosing system). Various solvents, soluble agents, resinous powders, or inert fillers can be used to control the viscosity of the adhesive. Viscosity of adhesive systems may need to be increased or decreased depending on the application and operational environment.
Viscosity control is one method commonly used to maintain a consistent product and bond line thickness. Thickeners and thixotropic agents are used to maintain reasonable thickness of the glue line through viscosity adjustment.
Flow characteristics can be regulated by the incorporation of fillers, by the use of scrims or woven tapes as ''internal shims'' within the adhesive itself, or by the careful regulation of the cure cycle. Fillers are incorporated to control the viscosity of the adhesives as well as other properties.
Air entrapment can be a source of failure especially in small applications. Removal of air from a system, prior to application, may be a necessary processing step. Air gaps could prevent the adhesive from interfacing fully with the substrate surface which may result in decreased strength. Diluents reduce viscosity and reduce the time it takes for the adhesives to effectively wet the substrate. The reduced viscosity also aids the removal of entrapped air and aids the capillary action of the adhesive in filling pores and cavities that may be on the substrate surface. However, the addition of diluents, especially unreacted liquid resins, usually result in lowered crosslink density which in turn can result in reduced high temperature strength and lower environmental resistance.
Mix Ratio for many two-part materials can be a major issue. Some systems are very sensitive to minor changes in the mix ratio. Many materials are stoichiometrically balanced and an off-ratio mix may cause the material to cure erratically and/or not perform to its optimal capability. Some materials that are not as sensitive to the mix ratio may exhibit slightly different characteristics when the ratio is varied. Materials that do cure with an off-ratio mix may have slightly different finished hardness and tensile strength thus effecting the final performance. An alternative solution to meet stringent requirements with respect to the mix ratio could be to continuously monitor viscosity throughout the mixing process and regulate quantities of different components/materials depending on desired flow characteristics.
Mixing of two-part adhesives is a basic process function but is essential for of these adhesives to work properly. Insufficient mix may result in a partial chemical reaction which leads to partial curing. An insufficient cured material will most likely result in poor bond strength and lower physical properties. Also, mixing of the original container can be very important. Fillers or other constituents could settle. Ensuring a homogenous mix of each component prior to mixing (for two parts) is vital to achieve maximum properties. Viscosity measurements at multiple points in the mixture can help monitor and regulate the homogeneity to the desired level for the application.
Slow and critical processing requirements of some adhesives can be a major disadvantage particularly in high-volume production operations. If the adhesive has multiple components, the parts must be carefully weighed and mixed. The setting operation often requires heat and pressure. Lengthy set time makes jigs and fixtures necessary for assembly. Rigid process controls are also necessary, because the adhesive properties are dependent on curing parameters and surface preparations. The inspection of finished joints for quality control is very difficult. This also necessitates strict control over the entire bonding process to ensure uniform quality. Non-destructive test techniques cannot quantitatively predict joint strength.
Viscosity measurements in Testing
Testing is an extremely critical function in the adhesive and sealant industry for several reasons. One cannot reliably predict the characteristics of the joint based solely on parameters of the adhesive, substrate, and joint design. Adhesive viscosity is an indication of how easily the product can be pumped or spread onto a surface. It reveals information, together with the liquid's setting rate and surface tension, that is pertinent to the wetting characteristics of the adhesive and information regarding the age and compounding of the adhesive. Viscosity measurements for free-flowing adhesives or sealants are usually based on one of the following methods described in ASTM D 1084. Adhesive and sealant tests are conducted for a variety of reasons. They are used to either:
Choose among materials or processes, such as adhesive, adherend, or joint design;
Monitor the quality of production materials to make certain that they have not changed since the last time they were verified for use in the bonding process;
Confirm the effectiveness of a bonding process, such as surface cleaning or curing; or
Investigate parameters or process variables that may lead to measured differences in the performance of the bond
There are two general categories of tests for adhesives and sealants: fundamental property tests and end-use tests. Fundamental property tests, such as viscosity testing, are usually employed to assess the consistency of the incoming adhesive or substrate once the joint system is verified as suitable in a specific application. Often fundamental property testing is undertaken after there is a failure or unexplained occurrence to determine if a change in the incoming material may have been the possible culprit. A number of standard tests for adhesives and sealants have been specified by the American Society for Testing and Materials (ASTM) and other professional organizations such as the U.S. Department of Defence and the Society of Automotive Engineers.
Quality control of the incoming materials: It may also be necessary to test the incoming bulk product in-house for fundamental properties. These inspections usually consist of an evaluation of physical and chemical properties such as: color, viscosity, percent solids, weight per gallon, pot life, open time, and flow. An extremely high percentage of defects can be traced to poor workmanship or lack of understanding regarding adhesion. Specifications are a necessary part of a quality control program. A specification simply is a statement of the requirements that the adhesive, sealant, or process must meet in order to be accepted for use.
Adhesives can be single component, but they often consist of two components, the resin and the hardener. All components separately and the mixed product need to be viscosity tested. Some of the standard tests for characterising fundamental material properties for adhesives and sealants are as follows:
ASTM D1084 Viscosity of adhesives
ASTM D2556 Apparent viscosity of adhesive having shear rate dependent flow properties
ASTM D3236 Viscosity of hot melt adhesive and coating materials
Viscosity management in delivery systems
When used for both automotive and general manufacturing purposes, these new industrial adhesives are applied using a wide variety of adhesive delivery systems. These range from fully robotic application systems – which rapidly apply a precise, consistently measured bead of adhesive to a workpiece, such as an unprimed body panel or windshield – to gun-based applicator systems used by plant workers to manually apply adhesives to panels and parts during production line assembly. To achieve a more consistent flow and bead of material during application, fluid viscosity regulators can be added downstream of the pump.
Rheology and viscosity are some of the most important characteristics associated with sealants and adhesives which should display liquid-like properties (they should flow) in order to be applied but must also have sufficient 'tack' to stick to or bind substrates together – behaviour which is influenced by viscoelastic properties. Once applied, most materials are then designed to undergo a liquid-solid transition in order form a robust seal or adhesive bond. For low-viscosity adhesives, viscosity is important for penetrating the gluing surfaces and for flowing into the gluing gap. For high-viscosity adhesives the correct viscosity is required to bridge larger gaps and to prevent it from flowing into small gaps and pores on the surface.
Viscosity is a measurement of the flow characteristics and its control is one of the most important operations of the adhesives and sealant delivery steps. Key points on how slurry viscosity is critical:
Through measurement of viscosity, changes in density, stability, solvent content, and molecular weight can be noticed. Viscosity is an effective indicator of the particle size distribution. Particle size distribution changes can affect properties including density, rheology, and coating thickness. Properties that can be affected are chemical resistance, thermal characteristics, shock resistance, shrinkage, flexibility, serviceability and strength. Continuous viscosity monitoring and making required adjustments to the formulation is essential in order to achieve right properties of the adhesives and sealants in the respective applications.
Continuous viscosity monitoring and control is essential to detect and avoid problems in delivery due to environmental factors – temperature, the level of moisture, Carbon dioxide, pH and oxygen, amongst other chemicals can have an adverse effect on the adhesive & sealants.
In order to have a uniform application process and so as not to waste materials and optimise energy usage, it is highly desirable that the viscosity be regulated automatically to a substantially constant value. Real-time, in-line viscosity monitoring and control is essential to improve performance and reduce costs in almost every formulation and delivery process of adhesives and sealants. Process operators realise the need of a viscometer that monitors viscosity and temperature, and could use temperature-compensated viscosity as the key process variable to ensure consistency and reduce failures.
Why viscosity monitoring & control is critical in adhesives and sealants formulations, testing and delivery?
The broad and significant benefits with viscosity management in preparation, testing and application of adhesives & sealants:
Quality of adhesion and sealing: Joined parts must comply with finished product specifications, and process control is critical to achieve the same. In-line viscosity monitoring and control can help achieve the required consistency in delivery and formulation systems adhesive and sealant applications.
Reduce defects: Viscosity control can help alleviate the frequency of miscues in the processes of preparation, testing and delivery of adhesives and sealants – air entrapment, increased moisture levels
Better yield: Ensuring consistency throughout the coating process significantly reduces reject rates saving cost and time and assists in continuous delivery processes. Offline measurement techniques are tedious and unreliable, and involve huge delays in the production process besides incurring high personnel costs to sample and run tests.
Correct properties: Poor mix quality can adversely affect the desirable properties of the joints – resistance to thermal cycling, chemical resistance, electrical insulation, flexibility, dimensional stability, low shrinkage. All these properties depend on the how well the processes are controlled, hence controlling viscosity is critical.
Efficient processes: Automation in the viscosity sensing and control in investment casting processes can help manufacturers reduce lead times, enhance capacity utilisation and optimise efficiency.
Cost: Incorrect viscosity harms more than just quality. Poor viscosity management drives up usage of thickeners, fillers and diluents affecting the profit margins. Continuous viscosity measurements during the mixing process can ensure homogeneity, optimise energy usage and reduce use of diluents.
Waste: Materials rejected due to poor quality can be reduced with proper viscosity management.
Efficiency: Eliminating manual viscosity control frees operators' time and enables them to focus on other tasks.
Environment friendly: Lowering the use of pigment and solvent is good for the environment.
Regulatory compliance: Global and national regulations guide the overall properties of the sealings and adhesives. Failure to adhere due to variability in production could lead to significant damages and loss of customers besides liabilities arising from defective workmanship in production process.
To ensure consistent high-quality, defects-free application of adhesives and sealants, the change in viscosity through-out the process stream is monitored in real time, making measurements from a baseline rather than simply measuring absolute values, and making viscosity adjustments by adjusting mixture components and compensating for temperature to keep the processes within specified limits. With continuous online viscosity monitoring, the preparation and delivery can be controlled more effectively, therefore significantly improving the metallurgical properties of the final product.
Process Challenges
Operators in adhesives & sealants market recognize the need to monitor viscosity but making that measurement outside laboratory has challenged process engineers and quality departments over the years. Existing laboratory viscometers are of little value in process environments because viscosity is directly affected by temperature, shear rate and other variables that are very different off-line from what they are in-line. Conventional methods of controlling viscosity of formulations have proven inadequate even in applications where wide variation in viscosity is permitted.
Traditionally, operators have measured the viscosity of slurry using the Zahn flow cup. The measurement is reported as the time elapsed for the cup volume to flow through a hole in the bottom of the cup. The end point of the test must be chosen so that it is consistent from test to test. The procedure is messy and time-consuming. It is inaccurate, inconsistent and non-repeatable even with an experienced operator. In the continuous casting process, the interval sampling causes excessive delays. The viscosity of can't be adjusted in real time. Besides, the various containers containing the formulation are open; due to changes in ambient temperature, humidity and other factors, such as temperature, dry climate, solvents are likely to be volatile, so cup-based viscosity measurement technique becomes ineffective.
Some companies use thermal management systems to keep point-of-application at a determined optimal temperature to achieve constant ink viscosity. But, temperature is not the only factor affecting viscosity. Shear rate, flow conditions, pressure and other variables can affect viscosity changes as well. Temperature controlled systems also have long installation times and a large footprint.
Conventional vibrational viscometers are unbalanced, requiring large masses to avoid large influence of mounting forces.
Rheonics' Solutions
Automated in-line viscosity measurement and control is crucial to control the formulation and application viscosity. Rheonics offers the following solutions, based on a balanced torsional resonator, for process control and optimisation in the coating process:
Online Viscosity measurements: Rheonics' SRV is a wide range, in-line viscosity measurement device with in-built fluid temperature measurement and is capable of detecting viscosity changes within any process stream in real time.
Online Viscosity and Density measurements: Rheonics' SRD is an in-line simultaneous density and viscosity measurement instrument with in-built fluid temperature measurement. If density measurement is important for your operations, SRD is the best sensor to cater to your needs, with operational capabilities similar to the SRV along with accurate density measurements.
The sensors are hermetically encapsulated and hence performance is unaffected by turbulence and fluid non-homogeneity. Automated online viscosity measurement through SRV or an SRD eliminates the variations in sample taking and lab techniques. The sensor is installed either in the coating bucket or the line through which the coating is pumped to the applicator, continuously measuring the formulated system viscosity (and density in case of SRD). Application consistency is achieved through automation of the dosing system through a process controller based on real-time viscosity, and temperature measurements. Using an SRV/SRD in a coating process line, transfer efficiency is improved improving productivity, profit margins and environmental/regulatory goals. The sensors have a compact form factor for simple OEM and retrofit installation. They require no maintenance or re-configurations. The sensors offer accurate, repeatable results no matter how or where they are mounted, without any need for special chambers, rubber seals or mechanical protection. Using no consumables, SRV and SRD are extremely easy to operate with zero maintenance.
Rheonics' Advantage
Compact form factor, no moving parts and require no maintenance
Rheonics' SRV and SRD have a very small form factor for simple OEM and retrofit installation. They enable easy integration in any process stream. They are easy to clean and require no maintenance or re-configurations. They have a small footprint enabling Inline installation in ink lines, avoiding any additional space or adapter requirement on the press and on ink carts.

High stability and insensitive to mounting conditions: Any configuration possible
Rheonics SRV and SRD use unique patented co-axial resonator, in which two ends of the sensors twist in opposite directions, cancelling out reaction torques on their mounting and hence making them completely insensitive to mounting conditions and ink flow rates. These sensors can easily cope up with regular relocation. Sensor element sits directly in the fluid, with no special housing or protective cage required.
Easy installation and no reconfigurations/recalibrations needed
Replace sensors without replacing or reprogramming electronics, drop-in replacements for both sensor and electronics without any firmware updates or calibration coefficient changes. Easy mounting. Screws into ¾" NPT thread in ink line fitting. No chambers, O-ring seals or gaskets. Easily removed for cleaning or inspection. SRV available with flange and tri-clamp connection for easy mounting and dis-mounting.
Low power consumption
24V DC power supply with less than 0.1 A current draw during normal operation
Fast response time and temperature compensated viscosity
Ultra-fast and robust electronics, combined with comprehensive computational models, make Rheonics devices one of the fastest and most accurate in the industry. SRV and SRD give real time, accurate viscosity (and density for SRD) measurements every second and are not affected by flow rate variations!
Wide operational capabilities
Rheonics' instruments are built to make measurements in the most challenging conditions. SRV has the widest operational range in the market for inline process viscometer:
Pressure range up to 5000 psi
Temperature range from -40 up to 200°C
Viscosity range: 0.5 cP up to 50,000 cP
SRD: Single instrument, triple function – Viscosity, Temperature and Density
Rheonics' SRD is a unique product that replaces three different instruments for viscosity, density and temperature measurements.  It eliminates the difficulty of co-locating three different instruments and delivers extremely accurate and repeatable measurements in harshest of conditions.
Achieve the right print quality, cut down costs and enhance productivity
Integrate an SRV/SRD in the process line and ensure colour consistency throughout the printing process. Achieve constant colours without worrying about colour variations. SRV (and SRD) constantly monitors and controls viscosity (and density in case of SRD) and prevents overuse of expensive pigments and solvents. Reliable and automatic ink supply ensures that presses run faster and saves operators' time. Optimise the printing process with an SRV and experience lesser reject rates, lesser wastes, fewer customer complaints, fewer press shut downs and material cost savings. And at the end of it all, it contributes to a better bottom line and a better environment!
Clean in place (CIP)
SRV (and SRD) monitors the cleanup of the ink lines by monitoring the viscosity (and density) of the solvent during the cleaning phase. Any small residue is detected by the sensor, enabling the operator to decide when the line is clean for purpose. Alternatively, SRV provides information to the automated cleaning system to ensure full and repeatable cleaning between runs.
Superior sensor design and technology
Sophisticated, patented 3rd generation electronics drive these sensors and evaluate their response. SRV and SRD are available with industry standard process connections like ¾" NPT and 1" Tri-clamp allowing operators to replace an existing temperature sensor in their process line with SRV/SRD giving highly valuable and actionable process fluid information like viscosity besides an accurate measurement of temperature using an in-build Pt1000 (DIN EN 60751 Class AA, A, B available).
Electronics built to fit your needs
Available in both an explosion-proof transmitter housing and a small-form factor DIN rail mount, the sensor electronics enables easy integration into process pipelines and inside equipment cabinets of machines.
Easy to integrate
Multiple Analog and digital communication methods implemented in the sensor electronics makes connecting to industrial PLC and control systems straightforward and simple.

ATEX & IECEx Compliance
Rheonics offers intrinsically safe sensors certified by ATEX and IECEx for use in hazardous environments. These sensors comply with the essential health and safety requirements relating to the design and construction of equipment and protective systems intended for use in potentially explosive atmospheres.
The intrinsically safe and explosion proof certifications held by Rheonics also allows for customization of an existing sensor, allowing our customers to avoid the time and costs associated with identifying and testing an alternative. Custom sensors can be provided for applications that require one unit up to thousands of units; with lead-times of weeks versus months.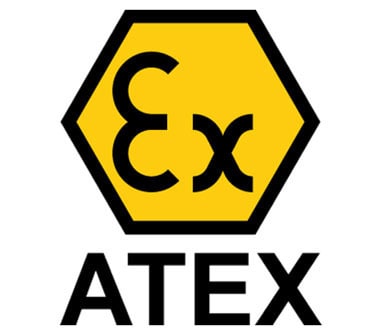 Implementation
Directly install the sensor to your process stream to do real time viscosity and density measurements. No bypass line is required: the sensor can be immersed in-line, flow rate and vibrations do not affect the measurement stability and accuracy. Optimize mixing performance by providing repeated, consecutive, and consistent tests on the fluid.
Rheonics Instrument Selection
Rheonics designs, manufactures and markets innovative fluid sensing and monitoring systems. Precision built in Switzerland, Rheonics' in-line viscometers has the sensitivity demanded by the application and the reliability needed to survive in a harsh operating environment. Stable results – even under adverse flow conditions. No effect of pressure drop or flow rate. It is equally well suited to quality control measurements in the laboratory.
Suggested product(s) for the Application
Wide viscosity range – monitor the complete process
Repeatable measurements in both Newtonian and non-Newtonian fluids, single phase and multi-phase fluids
Hermetically sealed, all stainless steel 316L wetted parts
Built in fluid temperature measurement
Compact form-factor for simple installation in existing process lines
Easy to clean, no maintenance or re-configurations needed
Single instrument for process density, viscosity and  temperature measurement
Repeatable measurements in both newtonian and non-newtonian fluids, single phase and multi-phase fluids
All metal (316L Stainless Steel) construction
Built in fluid temperature measurement
Compact form-factor for simple installation in existing pipes
Easy to clean, no maintenance or re-configurations needed