Monitoring and controlling viscosity of wire enamel in coating process
Introduction
The global electrical insulation coatings market size in 2015 was USD 2 billion and is expected to grow significantly in the coming years, mainly due to developments in the power sector (global transmission and distribution market). The top emerging market trends facilitating the growth are growing solar power industry, increasing investment in smart grid network and adoption of energy efficient motors. The major application areas are electrical and electronics, automotive, medical and aerospace.
Unstable raw material cost and high costs of formulations are expected to pose a major challenge to market participants. Strict governmental regulations imposed in the market especially in North America and Europe, limit the amount of VOC content in coating products. This has forced the coating manufacturers to go green and adopt sustainability as their agenda, also they are infusing high investments in research and development to develop and innovative and new products which can be offered at low cost, while adhering the regulatory guidelines. Key industry participants in electrical insulation coatings market continue to strive for high integration throughout the value chain, process improvements for superior quality and cost reduction to expand their product portfolio.
Application
Copper and aluminium wires for the manufacture of transformers, electric motors, inductors, generators, speakers, hard disk head actuators, electromagnets, and a wide range of other applications, are coated with a very thin, electrically insulating enamel by dip coating process. Wire coating process is absolutely essential for the following reasons:
To safeguard the winding against absorption of moisture
To resist shock, vibration and mechanical stress by bonding the whole winding, wires and insulation mechanically, into a solid cohesive mass
To protect the winding against the destructive effects of oil, acid and other chemicals, damp, heat and mould growth and to provide anti-tracking properties
To improve the electrical properties of the fibrous or other insulators which should remain unimpaired by any of the various destructive influences over a period (for example -the normal cycles of heat and cold resulting from it being switched on and off)
Most common wire enamels are Polyvinyl Formal, Polyurethane (PUR), Polyester, Solderable Polyester (PEI), Polyester-imide and Polyimide which behave differently in terms of – adhesion, flexibility, heat shock, solderability, smoothness and speed. The choice of the type of enamelled wire depends on the requirements of the specific application.
The coated wires (also known as magnet wires) are manufactured by applying a coating of enamel to a filament of copper or aluminium conductor in multiple layers. The conductor is passed through a liquid enamel bath or solution of enamel in a solvent and then heated in an oven to drive off the solvent and to cure the enamel; this process is carried out repeatedly for several times depending on the application.
Coating thickness, which depends on the percent solids in the coating solution, is an important design parameter and it is very important to control it within a predetermined range. If the coating solution contains a high percent-solids content, solvent costs can be reduced. The coating thickness is strongly dependent upon viscosity of the liquid enamel or enamel solution and the viscosity of enamel solution must be carefully controlled in order to provide a uniform coating thickness. When the viscosity fluctuates out of specification, the coat of enamelled wire will be uneven which eventually will lead to poor quality and is often scrapped. Viscosity can have several effects on absorption, colour strength and drying. Highly viscous coating solutions result in tackiness and cause difficulty in transfer onto the substrate, whereas low viscosity makes it more mobile and harder to control and also resulting in increased solvent usage. The viscosity increases when it is not being worked and decreases when there is a constant applied force. The strong correlation between temperature and ink viscosity suggest that fluctuations in temperature can have drastic impact on the viscosity, and thus the coating thickness which is the most crucial parameter.
In order to have a uniform coating and so as not to waste enamel, it is therefore highly desirable that the enamel viscosity be regulated automatically to a substantially constant value. Real-time, in-line viscosity monitoring and control in the coating process is essential to improve performance and reduce costs in almost every wire coating process. Process operators realise the need of a viscometer that monitors viscosity and temperature, and could use temperature-compensated viscosity as the key process variable to ensure consistency and reduce reject rates.
Why is viscosity monitoring and control critical in wire coating process?
The broad and significant factors which make viscosity management critical in wire coating process are:
Coating Quality: Magnet wires must comply with finished product specifications and regulatory requirements, and process control is critical to ensure compliance. Variation in viscosity causes significant change in solvent as well as water-based coating properties affecting printability, fade resistance and drying.
Coating Uniformity: Inline viscosity monitoring and control can help achieve the required coating quality and reduce coating failures like orange peel, peel off and adhesion failures.
Reduce coating errors: Viscosity control can help alleviate the frequency of miscues – sticking and picking, twinning, peeling, splitting, cracking, roughness, blistering, bridging and surface erosion.
Better yield: Ensuring consistency throughout the coating process significantly reduces reject rates saving cost and time. Offline measurement techniques are tedious and unreliable, and involve huge delays in the production process besides incurring high personnel costs to sample and run tests.
Correct properties: Poor coating quality can adversely affect the desirable properties of the magnet wires – hermetic & burnout resistance, flexibility, mechanical & chemical properties, colouring and market acceptance. All these properties depend on the coating thickness and uniformity, hence controlling viscosity is critical.
Cost: Coating with incorrect viscosity harms more than just quality. Poor viscosity management drives up usage of pigments and solvents, affecting the profit margins.
Waste: Materials rejected due to poor quality can be reduced with proper viscosity management.
Efficiency: Eliminating manual viscosity control frees operators' time and enables them to focus on other tasks.
Environment friendly: Lowering the use of pigment and solvent is good for the environment.
Regulatory compliance: Global and national regulations guide the overall electrical and mechanical properties of the wires. Failure to adhere due to variability in production could lead to significant damages and loss of customers besides liabilities arising from defective workmanship in production process.
To ensure consistent high-quality, uniform coating, the change in viscosity through-out the process stream is monitored in real time, making measurements from a baseline rather than simply measuring absolute values, and making viscosity adjustments by adjusting solvents and compensating for temperature to keep the complete coating process within specified limits.
Process Challenges
Operators in insulation coatings market recognize the need to monitor viscosity but making that measurement outside laboratory has challenged process engineers and quality departments over the years. Existing laboratory viscometers are of little value in process environments because viscosity is directly affected by temperature, shear rate and other variables that are very different off-line from what they are in-line. Conventional methods of controlling viscosity of enamel coating have proven inadequate even in applications where the wide variation in enamel viscosity is permitted and wire coatings are allowed to vary out of the predetermined specification range.
Traditionally, operators have measured the viscosity of printing ink using the efflux cup. Paint dissolved liquid is timed sampling using the dosage cup, where the time taken by the pain passing through the funnel (efflux cup) is taken to be an indicator of the relative viscosity. The procedure is messy and time-consuming, particularly if the ink needs to be filtered first. It is pretty inaccurate, inconsistent and non-repeatable even with an experienced operator. Due to continuous production process of enamelled wire, the interval sampling causes excessive delays. The viscosity of paint dissolved liquid can't be adjusted in real time. Besides, the various cylinders of the thin paint coating process are open; due to changes in ambient temperature, humidity and other factors, such as temperature, dry climate, paint solvents are likely to be volatile, this viscosity measurement technique becomes ineffective with regard to the process needs.
Some companies use thermal management systems to keep point-of-application at a determined optimal temperature to achieve constant viscosity. But temperature is not the only factor affecting viscosity. Shear rate, flow conditions, pressure and other variables can affect viscosity changes as well. Temperature controlled systems also have long installation times and a large footprint.
Rheonics' Solutions
Automated in-line viscosity measurement and control is crucial to control the coating formulation and application viscosity. Rheonics offers the following solutions, based on a balanced torsional resonator, for process control and optimisation in the coating process:
Online Viscosity measurements: Rheonics' SRV is a wide range, in-line viscosity measurement device with in-built fluid temperature measurement and is capable of detecting viscosity changes within any process stream in real time.
Online Viscosity and Density measurements: Rheonics' SRD is an in-line simultaneous density and viscosity measurement instrument with in-built fluid temperature measurement. If density measurement is important for your operations, SRD is the best sensor to cater to your needs, with operational capabilities similar to the SRV along with accurate density measurements.
Automated online viscosity measurement through SRV or an SRD eliminates the variations in sample taking and lab techniques which are used for viscosity measurement by traditional methods. The sensor is installed either in the enamel coating bucket or the line through which the coating is pumped to the applicator,, continuously measuring the formulated system viscosity (and density in case of SRD). Coating consistency is achieved through automation of the dosing system through a process controller based on real-time viscosity, and temperature measurements. Using an SRV in a coating process line, coat transfer efficiency is improved improving productivity, profit margins and environmental/regulatory goals. The sensors have a compact form factor for simple OEM and retrofit installation. They require no maintenance or re-configurations. The sensors offer accurate, repeatable results no matter how or where they are mounted, without any need for special chambers, rubber seals or mechanical protection. Using no consumables, SRV and SRD are extremely easy to operate with zero maintenance.
Rheonics' Advantage
Compact form factor, no moving parts and zero maintenance
Rheonics' SRV and SRD have a very small form factor for simple OEM and retrofit installation. They enable easy integration in any process stream. They are easy to clean and require no maintenance or re-configurations. Their small footprint enables simple in-line installation, avoiding any additional space or adapter requirement on the coater.
High stability and insensitive to mounting conditions: Any configuration possible
Rheonics SRV and SRD use unique patented co-axial resonator, in which two ends of the sensors twist in opposite directions, cancelling out reaction torques on their mounting and hence making them completely insensitive to mounting conditions and ink flow rates. These sensors can easily cope up with regular relocation. Sensor element sits directly in the fluid, with no special housing or protective cage required.
Instant accurate readouts on printing conditions – Complete system overview and predictive control
Rheonics' software is powerful, intuitive and convenient to use. Real-time viscosity can be monitored on a computer. Multiple sensors spread across the factory floor are managed from a single dashboard. There is no effect of pressure pulsation from pumping on sensor operation or measurement accuracy. In addition, the sensor is insensitive to any vibrations or electrical noise from external machinery.
Easy installation and no reconfigurations/recalibrations needed
Replace sensors without replacing or re-programming electronics
Drop-in replacements for both sensor and electronics without any firmware updates or calibration coefficient changes.
Easy mounting. Screws into ¾" NPT threaded in-line fittings, or Flanged connections.
No chambers, O-ring seals or gaskets.
Easily removed for cleaning or inspection.
SRV available with flange, DIN 11851 hygienic and tri-clamp connection for easy mounting and dis-mounting.
Low power consumption
24V DC power supply with less than 0.1 A current draw during normal operation (less than 3W)
Fast response time and temperature compensated viscosity
Ultra-fast and robust electronics, combined with comprehensive computational models, make Rheonics devices one of the fastest and most accurate in the industry. SRV and SRD give real-time, accurate viscosity (and density for SRD) measurements every second and are not affected by flow rate variations!
Wide operational capabilities
Rheonics' instruments are built to make measurements in the most challenging conditions. SRV has the widest operational range in the market for inline process viscometer:
Pressure range up to 5000 psi and higher
Temperature range from -40 up to 300°C
Viscosity range: 0.5 cP up to 50,000+ cP
SRD: Single instrument, triple function – Viscosity, Temperature and Density
Rheonics' SRD is a unique product that replaces three different instruments for viscosity, density and temperature measurements.  It eliminates the difficulty of co-locating three different instruments and delivers extremely accurate and repeatable measurements in harshest of conditions.
Achieve the right coat quality, cut down costs and enhance productivity
Integrate an SRV or SRD in the process line and ensure uniformity and consistency throughout the coating process. Achieve constant colours & thickness without worrying about colour or thickness variations. SRV (and SRD) constantly monitors and controls viscosity (and density in case of SRD) and prevents overuse of expensive pigments and solvents. Reliable and automatic ink supply ensures that presses run faster and saves operators' time. Optimise the coating process with an SRV and experience lesser reject rates, lesser wastes, fewer customer complaints, fewer press shut downs and material cost savings. And at the end of it all, it contributes to a better bottom line and a better environment!
Clean in place (CIP)
SRV (and SRD) monitors the cleanup of the ink lines by monitoring the viscosity (and density) of the solvent during the cleaning phase. Any small residue is detected by the sensor, enabling the operator to decide when the line is clean for purpose. Alternatively, SRV provides information to the automated cleaning system to ensure full and repeatable cleaning between runs.
Superior sensor design and technology
Sophisticated, patented 3rd generation electronics drive these sensors and evaluate their response. SRV and SRD are available with industry standard process connections like ¾" NPT and 1" Tri-clamp allowing operators to replace an existing temperature sensor in their process line with SRV/SRD giving highly valuable and actionable process fluid information like viscosity besides an accurate measurement of temperature using an in-build Pt1000 (DIN EN 60751 Class AA, A, B available).
Environment friendly
Reduce the use of VOC (volatile organic compounds) in your process reducing the energy required to recover it or disposal costs. Manufacture smart while saving costs, ensuring high quality and protecting the environment.
Electronics built to fit your needs
Available in both an explosion-proof transmitter housing and a small-form factor DIN rail mount, the sensor electronics enables easy integration into process pipelines and inside equipment cabinets of machines.
Easy to integrate
Multiple Analog and digital communication methods implemented in the sensor electronics makes connecting to industrial PLC and control systems straightforward and simple.

ATEX & IECEx Compliance
Rheonics offers intrinsically safe sensors certified by ATEX and IECEx for use in hazardous environments. These sensors comply with the essential health and safety requirements relating to the design and construction of equipment and protective systems intended for use in potentially explosive atmospheres.
The intrinsically safe and explosion proof certifications held by Rheonics also allows for customization of an existing sensor, allowing our customers to avoid the time and costs associated with identifying and testing an alternative. Custom sensors can be provided for applications that require one unit up to thousands of units; with lead-times of weeks versus months.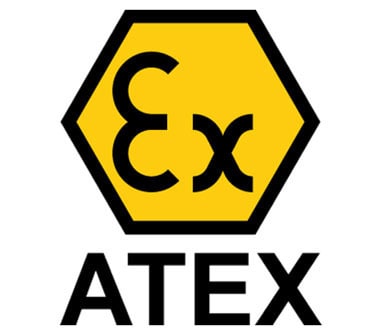 Implementation
Directly install the sensor to your process stream to do real-time viscosity and density measurements. No by-pass line is required: the sensor can be immersed directly in the process flow. Coating flow rate and machine vibrations do not affect the measurement stability and accuracy. Rheonics coating control sensors and solutions helps you optimize your coating performance by providing repeated, consecutive, and consistent results year on year.
Rheonics Instrument Selection
Rheonics designs, manufactures and markets innovative fluid sensing and monitoring systems. Precision built in Switzerland, Rheonics' in-line viscometers and density meters have the sensitivity demanded by the application and the reliability needed to survive in a harsh operating environment. Stable results – even under adverse flow conditions. No effect of pressure drop or flow rate. It is equally well suited to quality control measurements in the laboratory. No need to change any component or parameter to measure across full range.
Suggested product(s) for the Application
Wide viscosity range – monitor the complete process
Repeatable measurements in both Newtonian and non-Newtonian fluids, single phase and multi-phase fluids
Hermetically sealed, all stainless steel 316L wetted parts
Built in fluid temperature measurement
Compact form-factor for simple installation in existing process lines
Easy to clean, no maintenance or re-configurations needed
Single instrument for process density, viscosity and  temperature measurement
Repeatable measurements in both newtonian and non-newtonian fluids, single phase and multi-phase fluids
All metal (316L Stainless Steel) construction
Built in fluid temperature measurement
Compact form-factor for simple installation in existing pipes
Easy to clean, no maintenance or re-configurations needed