Rheonics InkSight Viscosity Control: The way to stay on color
InkSight (RPS - Rheonics Printing Solution) : Features and Advantages
Key advantages of Rheonics InkSight Viscosity Control
Robust, maintenance free viscosity sensor eliminates need for re-calibration
Agile viscosity controller reduces viscosity variation to better than 1% over entire print run, regardless of length
Simple, intuitive graphical interface with touch-screen control
Tighter, more accurate viscosity control
Dramatically reduces waste
Improves print quality and uniformity
Reduces ink consumption
Reduces setup time
Rheonics SRV Inline Viscosity Sensor
Built-in accuracy – never needs re-calibration
Stable and reproducible – Normal press cleanup cycle suffices to maintain accuracy
Robust – Heavy soil can be cleaned with solvent-soaked pad with no risk of damage
At home everywhere – patented symmetric resonator design ensures independence of mounting conditions
Here is an excerpt from the Rheonics SRV specification sheet:
Viscosity Range
3 to 10,000 cP (standard)
0.5 to 50,000+ cP (available)
Viscosity Accuracy
5% of reading (standard)
1% & higher accuracy available
Reproducibility
Better than 1% of reading
Temperature
Pt1000 (DIN EN 60751 cIass B)
| | |
| --- | --- |
| Process Fluid Temperature | -40 up to 300 °C (575°F) |
| Ambient Temperature | -40 up to 150 °C |
| Pressure Range | up to 7,500 psi (500 bar) |
InkSight Controller for accuracy that lasts
Viscosity control to better than 1%, regardless of print run length.
Figure 2. Temperature compensated viscosity (black) and temperature (green) vs. time. Vertical magenta lines show automatic solvent dosing by InkSight controller
Why ink viscosity matters?
As solvent evaporates, pigment loading increases. Viscosity is a measure of pigment loading
When pigment loading is too high, ink does not flow properly and consumption is too high; when too low, color density suffers and print quality goes down
Viscosity control by solvent addition keeps print quality high, even during long runs.

Figure 3. Color density variation with ink dilution and viscosity
For more information on why viscosity is critical in printing process, please read our application note – Optimising printing applications through inline process monitoring.
SRV and InkSight take temperature out of the equation
Ink viscosity is temperature sensitive. Each ink's viscosity behaves differently as temperature changes.
Figure 4. Temperature dependence of ink viscosity
Temperature compensated viscosity, calculated from temperature and measured viscosity, gives a true measure of pigment loading. SRV and InkSight control temperature compensated viscosity by replacing solvent lost to evaporation. Result: Pigment loading and flow characteristics are kept constant, regardless of temperature.
SRV and InkSight measure viscosity where it counts, not where it's easy
Ink viscosity is shear-rate sensitive. Each ink's viscosity depends on how fast it's flowing. Cup measurements can differ from inline measurements by 20% or more
SRV measures viscosity in the ink supply line, where it's flowing under real-world conditions. SRV measurements reflect viscosity of the ink while it's working, not resting
SRV and InkSight give stable and reliable viscosity measurement and control – you can focus on print quality instead of measurement skills!
Robust accuracy and repeatability mean you can take the sensor out of the equation. No maintenance, no recalibration = no attention needed. It just does its job
Temperature compensation means you can take temperature out of the equation. No need for temperature measurements and compensation formulas. SRV and InkSight do it for you. Just set the desired viscosity and let the system do the rest
You can take the cup out of the equation. Ink viscosity is measured under actual flow conditions. No need for – often inaccurate – conversion formulas between cup seconds and actual viscosity values. The value that is measured is the value that does the controlling.
RPS Integration
Simple Steps
Get on color, check your Delta & Densities when they pass lock in the viscosity following the steps listed below.
1. Select print unit on INKSIGHT panel
3. Stay on color within 0.5 cps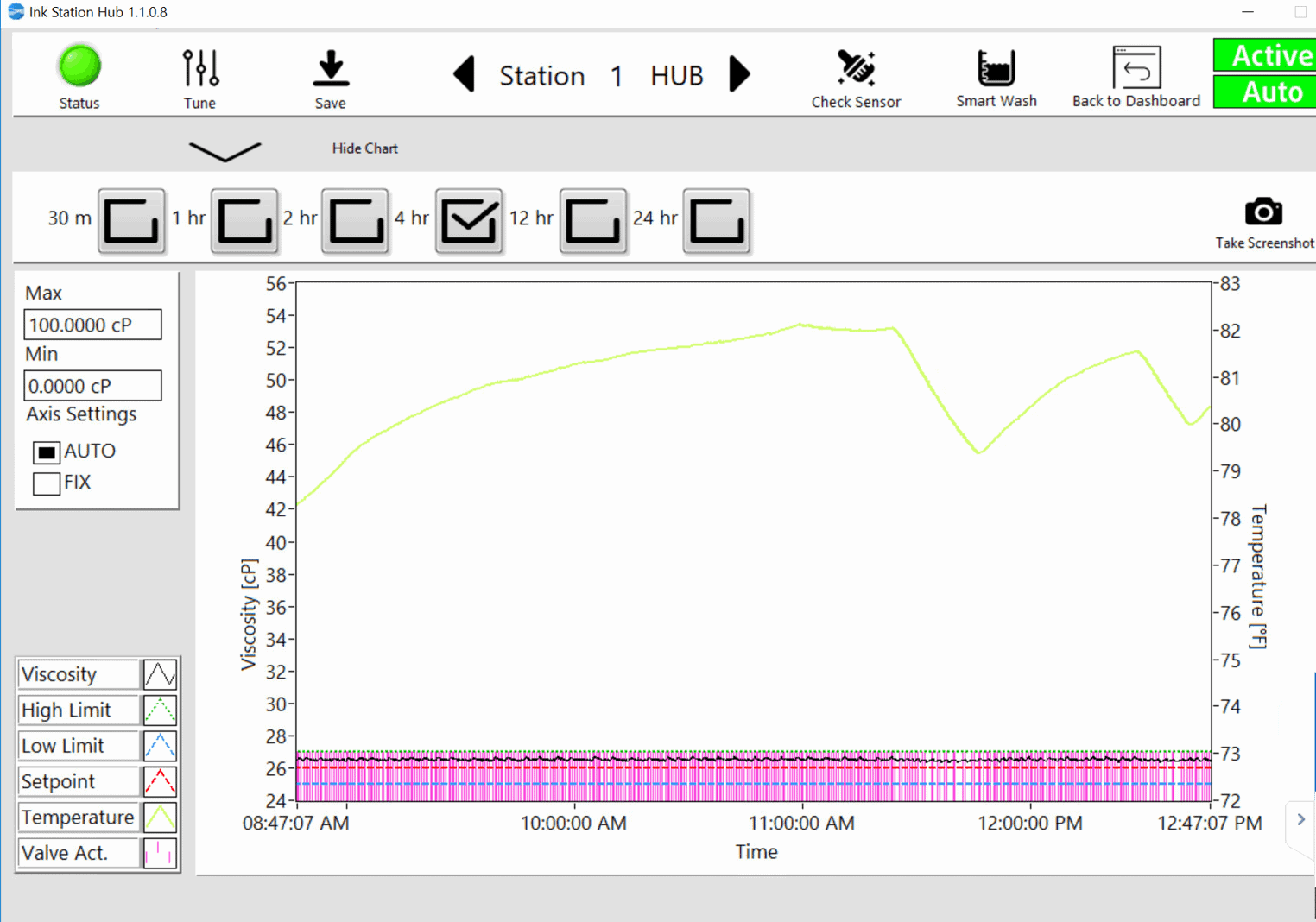 Standard system configuration
SRV Sensor located inline on exit of your pump connected to our main control cabinet behind the press
Pneumatic solvent control valve connected to our main control cabinet with ¼" feed line of solvent from central tank to each ink bucket
Central Control Panel for all units is located in your main console
Figure 5. Operators' interface with RPS (Multi-station ink console and handheld console)