Introduction
This system is the miniature variant of the process monitoring & control solution by Rheonics. It consists of an industrial embedded PC mounted inside a stainless-steel cabinet with integrated 10.4" display and touch screen. The industrial PC runs a control application which measures viscosity, density using Rheonics inline sensors and optional pH/Level by external third-party sensors. The process is controlled by up to two electrical and two pneumatic outputs which can control valves/pumps/mixers/chillers, etc.
Industrial communication options include an Ethernet connection, WiFi and USB. Additional user interface elements include a buzzer + alarm light and 4 buttons including LEDs.
Specifications
Table shows all options. However, the actual system will only contain the options that were selected during ordering.
Mechanical
Dimension
Width/Height/Depth, mm (inch)
380/444/222 (15/17.5/8.75)
Weight
kg (lb)
17 (38)
Protection
IP
IP54
Electrical Interfaces
Rheonics M12 process connection
1 x 12-pin M12 female connector for DVM/DVP/SRV/SRD sensor
Connected to internal SMET
For monitoring only system, multiple M12 connections are possible up to 6x each cabinet
Power Input
230VAC
Input range: 85VAC – 264VAC
Power Loss
Max. Load
4W
50Va, cos phi 0.6
Optional Electrical Interfaces
M12/4-pin process connection
1 x 4-pin M12 female connector (pH/Level/other RS485 sensor)
Connected to the RS485 D-Sub of the industrial PC
Pneumatic Output
2 x pneumatic process connection, 4mm, push-pull fitting
Pneumatic Valve 1: ADAM 6060, CH0
Pneumatic Valve 2: ADAM 6060, CH1
Pneumatic Input
1 x pneumatic process connection, 4mm, push-pull fitting
Input range: 4-10bar / 60-150psi
Human Interface Elements
Display
Projective capacitive 10-point 10,4" TFT LCD Touchscreen (1024*768)
Mounted on the industrial pc
Industrial PC
4x2GHz, 8BG RAM, 128GB
Windows 10 IoT preinstalled
Buttons
Piezo Buttons normal open
Actuating force: 2 – 6N
Different colour options
USB
USB 3.0
Ethernet
Ethernet LAN
10/100 Mbit/s full duplex
Internal communication over Ethernet
Completely plug & play service components
WIFI
802.11 b/g/n WIFI
300Mbit/s
Embedded Webserver accessible over Factory LAN on handheld devices
Alarm Buzzer with LED
85 to 96db(A) acoustic signal with a red LED
Customer configurable alerts
Email alerts
Power Consumption
Maximum
26,4W
Total cabinet using standard connections
Environmental
Temperature range
-10 ℃ ~+50 ℃
Sensors can be installed in higher temperature process lines, check rating of ordered sensors
Humidity range
10~95%@10 ℃
(No condensation)
IP
54
Installation
Connectors
All on top
Leave 60mm space on top for connectors and cables
Total Height of installation area recommended 500mm
Handles
Two (2)
For carrying cabinet
Wireless Antenna
Top
Protect against damage, sticks above handles
Wall mount
Two (2)
Outside installation
Not recommended without proper protection
All connectors come with caps, however the unit is not built for direct install in outside areas where connectors are exposed to environmental element.
Protect against ingress of water, dust, etc.
Software (options available to order)
RPS InkSight with ColorLock
1-10 station
Monitoring and control using ColorLock functionality
RPM RheoPulse
1-10 station
Monitoring only software
RPM SlurryTrak
1-10 station
Monitoring only software
RPM PaintTrak
1-10 station
Monitoring only software
RPS InSight with ProcessLock
1-10 station
Process monitoring and control software
System Overview
Standalone Solutions
Turnkey integrated automation solution for full control over your industrial processes. The system measures and controls viscosity within 0.5 cps : 100 times greater resolution than average efflux cups.
Wide range of solutions in the industry
Easy installation and retrofit
Easy mounting. Screws or clamps to ink line fitting. No chambers, O-ring seals or gaskets. Easily removed for cleaning or inspection. Sensors available with flange and tri-clamp connection for quick mounting/dismounting. Drop-in replacements for both sensor and electronics without any software changes – Auto detect!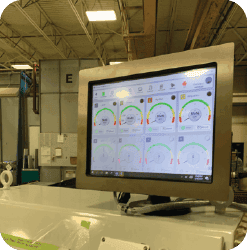 SRV Viscometer & the integrated RPS-A system
RPS - A Process Control and Monitoring System
Achieve best in class product quality, dramatically reduce setup time and optimise use of materials. Improve productivity and efficiency through complete automation of viscosity control of your process fluid.
• Robust, maintenance free viscosity sensor eliminates need for re-calibration
• Agile viscosity controller reduces viscosity variation to less than 1% over entire print run regardless of length
• One-click, intuitive graphical interface touch-screen
• Tighter, more accurate viscosity control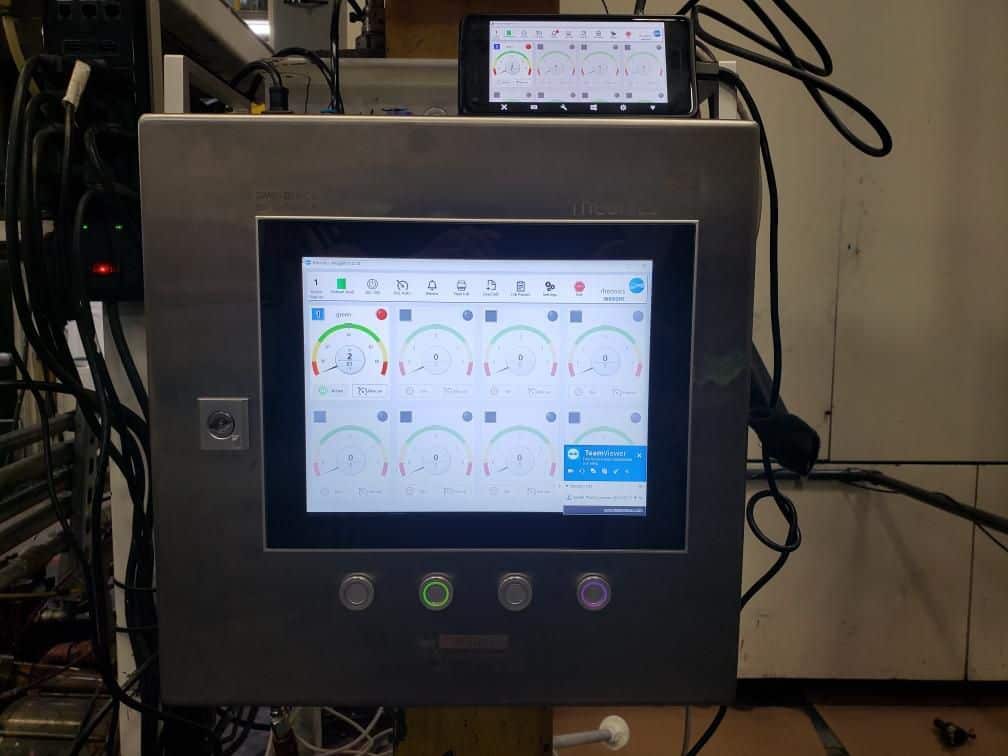 SRV - Wide range inline viscometer
You can expect the sensor on every station to measure and perform equally on any other station. The Rheonics SRV sensor is factory calibrated and traceable to NIST standards.
Small Form Factor – Fits in your palm while more robust than any other inline viscometers!
All 316L stainless steel wetted parts – Hermetically sealed, metal-metal process sealing – no elastomer
Repeatable, Reproducible – Newtonian, non-Newtonian, Single and Multi-phase fluids
Wide viscosity range – Air to 50,000+ cP
Built-in fluid temperature measurement – Excellent thermal compensation to achieve consistency over the years
No re-calibration needed – ever!
Rheonics' software is powerful, intuitive and convenient to use. Multiple stations are managed from a single dashboard. It supports multiple HMIs for operator, production supervisor, quality manager and management view.
• Proprietary advanced 5th generation AI system for simple click monitoring and control
• API for data acquisition and integration into press manufacturer's HMI
• On-demand in-built remote support management of job run
Global Support
Process control experts help when you need it the most.
Rheonics provides a worldwide network of engineers, application experts and technical sales professionals to help you size, select and troubleshoot process automations for your applications.