EtherNet/IP: The standard protocol for communication in industrial networks
EtherNet/IP: The standard protocol for communication in industrial networks
EtherNet/IP is a widely used Ethernet-based fieldbus for implementing standard Ethernet technology in industrial automation. But what is EtherNet/IP exactly? How does it work? And which advantages does EtherNet/IP offer?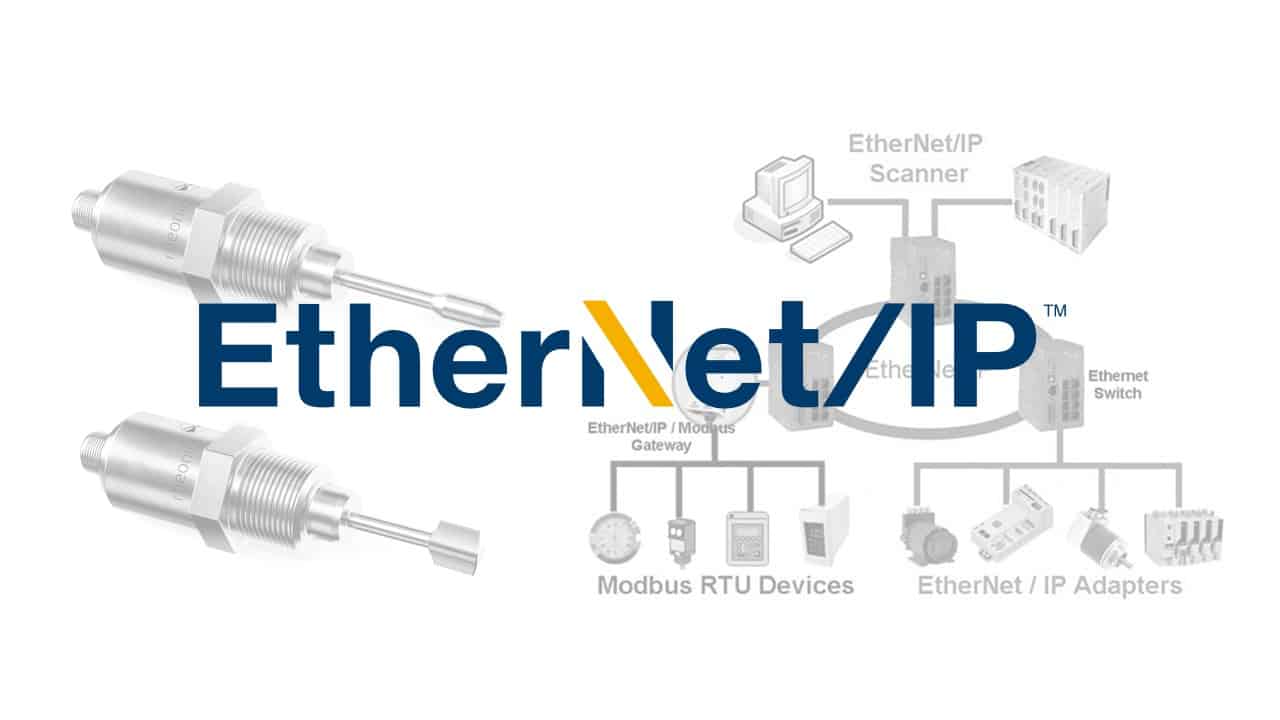 EtherNet/IP offers you the following advantages:
Simultaneous control, configuration and collection of data in a network
Compatibility with the Ethernet protocol
High transmission speed
Introduction to the technology
EtherNet/IP™ was introduced in 2001 and today is the most developed, proven and complete industrial Ethernet network solution available for manufacturing and process automation. EtherNet/IP is a member of a family of networks that implements the Common Industrial Protocol (CIP™) at its upper layers. CIP encompasses a comprehensive suite of messages and services for a variety of manufacturing and process automation applications, including control, safety, security, energy, synchronization, motion, configuration and information. As a truly media-independent protocol that is supported by hundreds of vendors around the world, CIP provides users with a unified communication architecture throughout the manufacturing enterprise.
Industrial systems are increasingly adopting Ethernet connectivity to solve manufacturers' key Industry 4.0 and smart factory communication challenges. These challenges include data integration, synchronization, edge connectivity, and system interoperability. Ethernet-connected factories enable higher manufacturing productivity, and more flexible and scalable manufacturing by enabling connectivity between information technology (IT) and operating technology (OT) networks. This allows all areas of the factory to be monitored and controlled on a single, seamless, secure, and high bandwidth network that supports time critical communications. Scaled computing and a robust communications infrastructure are the lifeblood of the connected factory. Today's networks struggle with increasing traffic loads and interoperability challenges across myriad protocols that require complex, power-hungry gateways to translate traffic throughout the factory. Industrial Ethernet solves these interoperability issues on a single network by delivering critical deterministic performance seamlessly to the edge of the factory.
Benefits of EtherNet/IP:
Standardized & continuously evolving
Simple integration
High speed
High bandwidth / large data packets
High addressing capability (more devices over greater distances)
Diagnostics
Simpler connection to enterprise – better convergence.
Widely available / lower cost
Reduced training (leverage IT knowledge)
---
Why do we have this option with our sensors?
First, Ethernet/IP is a widely supported protocol that can be used with hundreds of devices. For example, with Ethernet/IP, it is possible to build an automation system and easily have each component communicate with each other. Because this communication protocol is widely adopted throughout the industry, the best component can be selected from many options for a particular job, rather than being limited to devices from certain manufacturers. Additionally, Ethernet/IP allows for maximum flexibility for future system expansion, including the ability to add digital I/O or remote sensors at any time.
Using Ethernet/IP also helps companies save time and money when they are designing and developing a system. Ethernet/IP can perform control and configuration management as well as exchange data, where as some protocols only allow you to exchange data. Only Ethernet cables are needed for communication. This inherently cuts down on the amount of wiring required for a system, which reduces wiring costs, and saves time and money when designing the wiring into the system as well as the labour needed to run the wiring.
The Ethernet/IP protocol also allows manufacturers to collect more information from their devices. For example, Ethernet/IP can be used to communicate the power usage or temperature of a motor. This data can be used for better diagnostics or predictive maintenance, which helps develop more intelligent machines with more uptime, resulting in further cost savings.
Ethernet/IP is deployed in many systems because it is one of the most comprehensive and cost-effective industrial protocol for a variety of reasons. To save time and costs, it is important to have signals that are as fast and as accurate as possible.
Summary:
Data can be accessed instantly to give business leaders a real-time view into their automation system.
Data from your instrumentation can be distributed throughout the production enterprise.
Analyze production processes in order to identify potential and upcoming problems and improve overall performance.
---
Ease of integration and maintenance
Flexible integration and configuration
Connect to all EtherNet/IP systems (PLC, PAC, DCS)
Rich device description file (EDS) for comprehensive access to device parameters
Application specific input assemblies for selecting the right information you need, without unnecessarily increasing network load
Implicit and explicit messaging bring access to diagnostics, verification and monitoring as well as advanced functionalities, such as totalizing or concentration measurement
It takes less time to integrate new devices to the control system because no special skills are needed for wiring, the technician can use any industrial Ethernet cable.
Since most commercial field devices use the same protocol, interoperability between brands and devices is possible.
Users of Rheonics sensors can monitor up to 22 parameters such as viscosity, density, temperature, concentration, kinematic viscosity, and more, all in real-time with Ethernet/IP.
Due to the internal smart algorithm, a customer can determine sensor cleanliness and status during commissioning, and this information is always accessible over Ethernet/IP.
Simplified maintenance
Improved maintenance processes, e.g., by directly accessing device diagnostics using the integrated webserver.
Reduce device replacement time with Automatic Device Configuration (ADC).
By using Rheonics sensors, technicians can quickly detect the cause of any error in measurements by monitoring the internal integrity of the probe.
Monitor the status of power supply in real-time and allows troubleshooting any issue with the measurements.
---
Benefits of this protocol
For engineers
Optimized engineering efficiency, for instance, using device drivers (EDS) directly onboard and eliminating the need for additional gateways.
Reduced commissioning time, for example, by configuring all devices directly from the system and using configuration assemblies to enable plug-and-play operations.
For operators and maintenance personnel
Better operational performance, e.g., by providing richer real-time data for decision-making
Improvements to maintenance processes, such as direct access to diagnostics via the integrated webserver and plug-and-play device exchange
Highlights:
Common interoperability with Rockwell/Allen-Bradley control systems
Ready availability of devices (I/O modules, controllers, drives, gateways etc)
Use of off-the-shelf Ethernet hardware such as routers, switches, cabling)
Ease of system integration using the CIP (Common Industrial Protocol)
EtherNet/IP™ is a standard. The group managing EIP, the Open DeviceNet Vendors Association (ODVA) ensures a consistent, comprehensive standard that applies to all EtherNet/IP™ vendors and products
Immediate device recognition as a network node
System integration file (EDS) directly uploadable from the device
No data mapping needed, automatic population
Predictive maintenance support through reliable diagnostic data
Integrated web server for diagnostics and remote access
FDT/DTM technology for extended device configuration, asset information and asset health management
EtherNet/IP provides industrial users with a single, scalable network solution for high performance, real-time applications.
---
Rheonics Expertise
Few typical applications and where we have deployed EtherNet/IP protocol are:
SRD sensor with Ethernet/IP we can feed density measurements into another meter that requires periodic density updates in order to determine other variables through an algorithm.
Viscosity of batter mix that is applied to various appetizer food products.
Plywood glue manufacturing
Measure viscosity in process for water-based ink
Supply of fuel gases
Processing plants for food production as well as in the beverage industry and dairies
Automation and control for water/waste water treatment
Appetizer food products
Adhesives
Water based ink
Industrial applications where Rheonics solutions are deployed with EtherNet/IP protocol
Globally, the LNG market has expanded at a significant rate in the last decade, and LNG has considerable environmental benefits…
Implementation (high level, network view)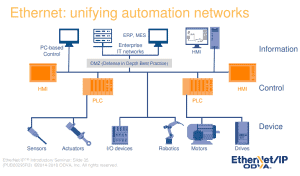 Source: EtherNet/IP Industrial Ethernet for the Internet of Things | https://indico.cern.ch/event/611566/attachments/1412034/2162094/PUB00295R3_EtherNet-IP_Seminar_EN_CERN.pdf
PLCs and automation platforms where EtherNet/IP is used with:
Allen Bradley PLC-Studio 5000
Omron PLC – NCStudio
WAGO PLC – Codesys
---
About the Organization
Founded in 1995, ODVA is a global association whose members comprise the world's leading automation companies. ODVA's mission is to advance open, interoperable information and communication technologies in industrial automation. ODVA recognizes its media independent network protocol, the Common Industrial Protocol or "CIP" – and the network adaptations of CIP – EtherNet/IP, DeviceNet, CompoNet and ControlNet – as its core technology and the primary common interest of its membership. For future interoperability of production systems and the integration of the production systems with other systems, ODVA embraces the adoption of commercial-off-the-shelf (COTS) and standard, unmodified Internet and Ethernet technologies as a guiding principle wherever possible. This principle is exemplified by EtherNet/IP – the world's number one industrial Ethernet network.
Our fluid sensors with EtherNet/IP
Rheonics density meters and viscosity meters are available as probes and flow-through systems for installation in tanks, process lines and reactors. All Rheonics products are designed to withstand harshest process environments, high temperature, high level of shock, vibrations, abrasives & chemicals.