Digitalizing pharmaceutical printing and coating applications – Eliminate defects with real-time viscosity control
Application
Temperature fluctuations, mixing equipment condition, type and conditions of substrates, formulations, process step interactions and mixing time parameters can all alter the print quality and performance across batches in pharma-printing. The downtimes and delay in deliveries due to rejects can seriously hurt profitability and delivery speed. Most of these parameters can be controlled by a system that continuously monitors the ink characteristics and takes corrective actions automatically and adaptively without disrupting the continuous printing operations.
Technologies required to deliver such transformational changes in the manufacturing process for pharmaceutical manufacturers already exist. Once the manufacturer invests in process monitoring equipment and analyse the collected data, it allows them to estimate where productivity gains can be made, where energy savings can be achieved and how to reduce downtimes through predictive maintenance.
Typical Pharmaceutical Printing Machine with ink viscosity control. Source: R.W. Hartnett | https://www.rwhartnett.com/our-products/delta-printing-machine/
Digitalizing pharma manufacturing - driver for manufacturers embrace of Industry 4.0
The key value drivers for investing in a continuous production process, supported by real-time inline viscosity monitoring equipment by pharmaceutical manufacturers, machine builders and system integrators in pharma-printing are the following:
Automated corrective actions for ensuring product consistency. Closed control loops through sensor-based, in-line quality inspection reduce waste and increase yield through early process deviation detection, root cause analysis, and automatic correction.
More agility in dealing with new pharmaceutical product variants, compliance and product provenance. Pharma manufacturers and printing operators get a more accurate picture of how the new ink formulations will react and how they might need to adjust current systems and control parameters. Real-time monitoring facilitates transition of a batch-based process to continuous operation, saving significant operational and capital costs through re-use of the same lines for multiple products.
Using sensors to monitor the ink is key to adapt to changing raw materials and end-product requirements, continuously changing regulations for pharma industry and managing growing demands of an increasingly better-informed customer base.
Acquired data provides robust evidence to base decisions for greater efficiency. The data provided by the process monitoring equipment enables operators to optimize process parameters critical to the printing process. Making data-driven printing and manufacturing decision brings key competitive advantages in all phases of operations as well as for planning equipment maintenance. Interconnection and information transparency allow for operators to make decisions both inside and outside of production facilities, thus enabling decentralization of decisions. Automated and transparent processes, along with optimized workflows can ensure an efficient data management and improved quality control system.
Higher customer satisfaction and adapting to customer requests. Industry 4.0 solutions impact pharma companies by driving closer interactions with customers. The technology, data, and information help transform these manufacturing operations making the company more responsive to customer needs.
Complete track and trace of printing process. Real-time monitoring of print data enables track and trace of every step in the process chain ensuring full compliance with both regulatory (FDA) and manufacturing standards (ISO).
Whether it's through increasing connectivity throughout all areas of operations, providing new tools for analysing data or helping pharma overcome barriers to advanced technologies, vendors are constantly innovating IIoT-based solutions that make the digital transformation more seamless than ever before.
Pharmaceutical printing techniques need mature technology and precise ink control
Printing onto finished tablets and capsules with ink enables manufacturers to include detailed logos or symbols and to print in multiple colours, increasing the number of possible identification of schemes. It's a mature technology and in use for more than 60 years. The basic approach is to transfer ink from an engraved pattern onto rubber roll or pad and then onto the tablet/capsule. There are several techniques in traditional printing – rotogravure and tampo printing, both offering similar capabilities and differing mainly in their throughput.
Ink offers greatest versatility in terms of printing schemes and multiple colours, complex logos, and machine-readable codes. With continuous printing, the print format and data sequencing can be easily changed using software. Ink printing offers an alternate to debossing uncoated tablets, some of which are too soft for debossing (E.g. – Orally Disintegrating Tablets, ODTs).
With pad, roller or inkjet printing, a recirculating stream of ink is supplied to the pad/roller/nozzle that applies it to the tablet or capsule. Any ink that is not used flows bank into the reservoir. The process is extremely fast to produce precise, sharp imprints with good resolution. The bulk of ink used in the printers recirculates continuously, which leads to solvent loss through evaporation. The evaporative rate of the thinners used can have an effect on print quality and run ability. To ensure consistent print quality, a control loop based on ink viscosity is used to add makeup solvent.
In order to optimise efficiency and quality, it is absolutely necessary to compensate for solvent loss by adding small amount of thinner from time to time, during the operation, to keep the viscosity within a narrow range to achieve both good print transfer and exact color of the printed marking.
Key value of inline ink monitoring and control solutions for pharma printing applications to support the factory digitalization and Industry 4.0 adoption
Closed quality control loops and the increasing degree of viscosity automation enabled by the Rheonics viscometers add value to the printing process in terms of quality, consistency, reduced wastes, efficiency and productivity. Human error is avoided and fully automatic correction of any deviation in the manufacturing process becomes possible.
Data provided by the Rheonics viscometers and integrated solutions helps to accelerate learning curves and accommodate more frequent pharma product composition changeovers, contributing to a more resource-efficient, economical and greener manufacturing process.
In cases where asset productivity and Overall Equipment Effectiveness (OEE) are key and maintenance costs are significant, it helps the pharma manufacturers cut down on process interruptions with predictive maintenance for production tools and machines. Forecasting potential downtime events and quality diagnosis are enabled by data provided by the sensors.
Rheonics products and technology add unique capabilities of interconnected technologies, which allow manufacturers to respond and adapt more quickly to customer requests, and even develop custom orders with less labour and setup time than in traditional manufacturing.
As pharma manufacturers seek to become more agile in adapting to the constantly changing compliance requirements and need to differentiate in a competitive market, they understand the need to invest in R&D activities and advanced process control technologies to develop new formulations with tailored characteristics.  Rheonics inline viscometers empower pharma manufacturers with capabilities to produce superior quality and consistent products of great variety, with least involvement of operators on factory floor – a significant advantage over other measurement alternatives or process control solutions. Inline ink preparation with continuous viscosity monitoring solutions solves major challenges of batch processes such as losses during product changeovers and inefficacies of material handling in a recipe-based approach. It supports scaling up of capacities with ease.
Unique benefits with the SRV for pharmaceutical printing applications include:
Maintains the set ink viscosity regardless of any process variability
Rugged, hermetically sealed sensor head. The SRV can be cleaned inline with all standard CIP processes without the need for disassembly or re-calibration
No moving parts to age or foul with sediment
Insensitive to particulate matter; no narrow gaps to foul with particulates
All wetted parts are 316L stainless steel – meets highest sanitary norms with no corrosion problems
Hygienic, sanitary design for pharmaceutical applications – available in tri-clamp and DIN 11851 connections for easy operation and cleaning
Certified under ATEX and IECEx as intrinsically safe for use in hazardous environments
Wide operational range and simple integra­tion – Sensor electronics and communication options make it extremely easy to integrate and operate with industrial PLC and control systems.
Schematic representation of Rheonics inline viscometer and RPTC system showing the inline integration of viscometer in the pharma printing process
Related Application Notes - Pharmaceutical Industry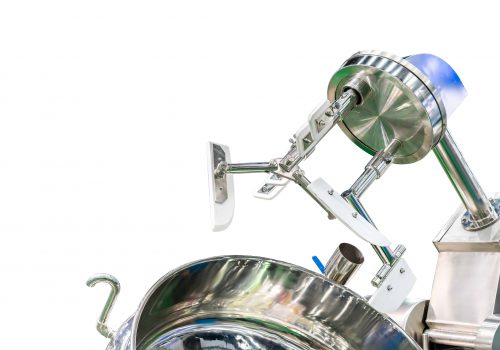 Key advantages of viscosity management in mixing applications: Accurate and efficient mixing operations – significant savings in material costs and energy Seamless product change-over: agility in dealing with different and…
Rheonics products portfolio for pharmaceutical manufacturers, system integrators and machine builders
Rheonics density meters and viscosity meters are available as probes and flow-through systems for installation in tanks, process lines and reactors. All Rheonics products are designed to withstand harshest process environments, high temperature, high level of shock, vibrations, abrasives & chemicals.